Wisconsin State Park System

Camping opportunities

Spend the night with nature in one of more than 4,900 campsites in the Wisconsin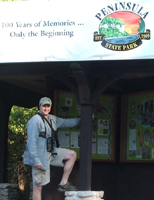 State Park System. Camping opportunities include family campsites, outdoor group camping and indoor group camps. There are also backpack, hike-in and canoe-in sites, and equestrian campsites. Some sites offer electrical hookups. Accessible sites are also available, and nine properties offer cabins for persons with disabilities.
Camping reservations
Camping reservations for family/modern campsites and outdoor group campsites may be made online or by phone. For the accessible cabins and other camping reservations, see the web pages above for more information.